This is an app for a prolific artist who currently communicates to many repeat clients through a newsletter but would like to engage more with his fans' desire for more information about his work. See my one of my favorite contemporary artist's website at: https://www.edsandovalgallery.com/
Role: Lead UX Researcher & Designer
Target Audience: People who have an interest in art
Goal: An app to categorize and generate interest and ultimately sales in an artists work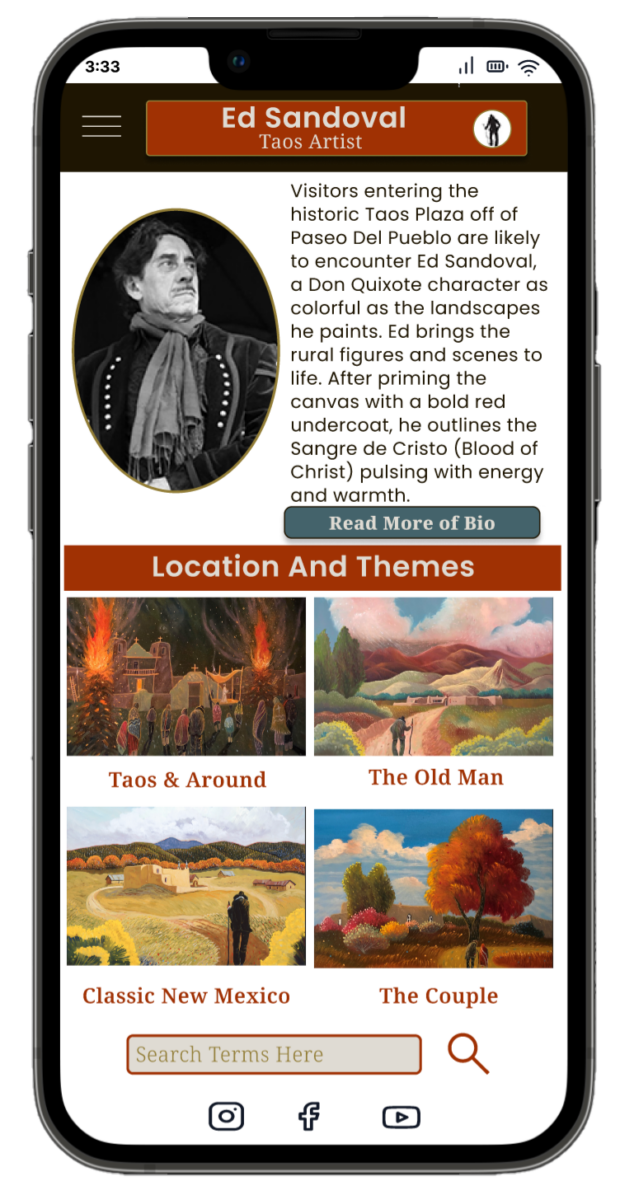 The Process
As lead UX researcher and designer on this project, I conducted a competitive audit, user research, wire-framing, prototyping, usability studies and accessibility testing.
A competitive audit showed most single artists don't have an app and it is clearly a place to expand.
The Research
After developing personas and user journeys during the ideation phase, we conducted two moderated usability studies with five participants each using low-fidelity and high-fidelity prototypes. Participants were chosen to represent different genders, ages, and accessibility questions and screened with qualifying questions that confirmed they had at least some interest in art. Questions were both quantitative and qualitative and a system usability scale was conducted.
One theme we noticed in the research was that some users were hesitant to use QR codes for download, which brought us to the insight that we should employ an incentive for using one.
Round 1 usability findings also showed that users wanted more features other than the art itself and multiple ways of finding the same thing.
In Round 2 usability testing we found users wanted a more obvious way of exiting a pre-purchase state, better scrolling with the map, and even more info about the artist.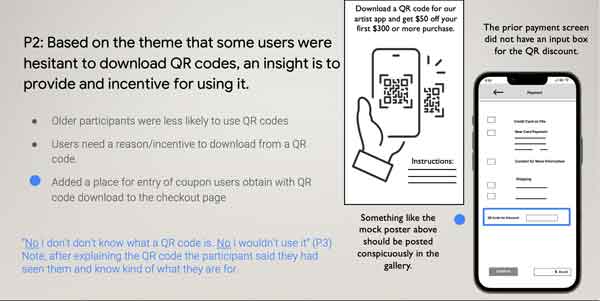 Design Iterations
It was a joy to take color inspiration from the artist's work to create a color palette I love.
Results and Next Steps
With this app we wanted to let users learn more about the art and artist which would affect their connection to him and his art, hopefully making them feel more engaged and comfortable with their investment and purchases. I knew we had made some impact when users at the end of the second usability study wanted to "look at all the pictures."
What I learned:
Knowing more about an artist and their work helps patrons feel more engaged and confident in their desire to purchase a piece of art. We can measure the effectiveness of the App by tracking App-related sales as a percentage of overall sales.
In the next iterations I would recommend:
All artwork for sale needs to be catalogued into its own page for viewer experience and information. A database should be created for this information that is searchable inside the app.
Users want even more information about the artist such as his age, artistic credentials, influences. All of this information should be gathered and flushed out in subsequent screens of the app.
An artist newsletter link, calendar of events and FAQ page should be created to create more opportunities for the patrons to get to know the art and artist more completely.